Why Play Games at all?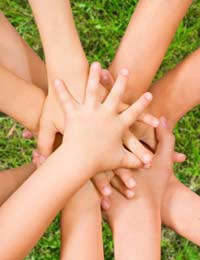 Most kids who go to youth clubs probably go for one reason; to play lots of fun and exciting games with their friends. But why should youth clubs provide so many games? The education of children is surely more important than letting them have a run around. Thankfully, games don't have to be all about exercise and fun; they can provide challenges that enable children and young people to learn skills which will stand them in good stead. This article discusses some of the options available to youth group leaders for games which are not just about play.
Teamwork
One of the most obvious benefits of playing games is that children will learn to support the other members of their team. This is often seen when someone makes a mistake; children will note the response of the child to verbal abuse or mockery, and the next time a mistake is made, praise and encouragement will be offered instead. It is simple psychology, but it has a marked effect on the confidence of kids to be encouraged by peers. Occasionally you will see a child who is particularly mature, who may become a very good leader later in life; the chance to learn the skills of man-management in a low-pressure environment could be very important in their growth as a person.
Knowledge
These are the sort of games that most youth group leaders tend to avoid, as they are sometimes a little too close to school for comfort. But there is certainly a place for 'learning' games, where children have an opportunity to increase their knowledge of specific subjects. For older teens, you could have a pub quiz style event, where each round is based on an individual subject; for younger children you could have evenings about different cultures or countries, and change the games you play so that they fit the topic.
Skills
One of the best benefits of games is their ability to challenge children to learn new skills. We have already discussed how teamwork might be improved by play, but there are many other advantages to be gained, too. Games can help to encourage children to develop their creativity and ingenuity. For example, some games call for intelligent use of limited resources to achieve a common goal. Children may have to use mathematical or engineering logic to find the answer to the puzzle. Similarly, for word games, their vocabularies will increase due to having to unravel answers or create clues for their team-mates. Even standard youth club games such as pool or snooker can aid children's hand-eye coordination, which is important if they are still growing. Ball games in general can assist with learning how to judge angles and parabolas, while wide games can help to create a healthy disrespect for orthodox strategy!
Health and Fitness
One of the biggest problems for children today is that they do not do enough exercise. Obesity is on the rise in our society, and a good amount of active play is essential if we are to combat the problem. Naturally youth groups will want to use games as much to calm children down as to excite them, but active games will always constitute an important element in a child's weekly fitness regime.
Games are great for so many reasons that it's hard to mention them all. Youth group leaders should be aware of the potential of games to break the ice between children who don't know each other, to build bonds of friendship and teamwork, and to calm children down after a particularly "hyper" session! A skilful leader will be able to judge which type of game suits the situation, and make a decision based on that judgement. Hopefully this article will contribute to your skills as a leader, and you'll be convinced that games are an excellent way of helping the children in your youth group to shine!
You might also like...