Rainy Day Relays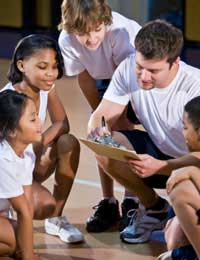 When the weather's rainy, there's no reason the children in your Youth Group should have to stay cooped up indoors with no way to expend their pent-up energy. Relay races not only allow children to engage in some healthy competition, they also encourage them to work on their team-building skills.
Indoor Relays
Playing games of skill and strength indoors on a rainy day can be fun – as can these silly relay games. Try a few on for size and see if they fit your Youth Group:
Trouser Time. Get an enormous pair of old trousers – for older kids, you may have to stitch two pairs of trousers together. Break up into two teams, then have everyone divide up into pairs. One child goes in each trouser leg, then the race begins. Transfer trousers from one pair of children to the next until everyone has a go. Which team is the fastest?
Neck the Orange. Children break up into two teams, and stand in a line. They then pass an orange along from child to child – using no hands – by gripping the fruit underneath their neck. Mums take note: this is a great neck-firming exercise, to lose that waddle!
Knee the Balloon. Similar to Neck the Orange – but a bit more silly. Pass a balloon along from child to child, hugging it tightly between their knees. If it pops, that team loses. No hands allowed, no matter what.
Outdoor Relays
Get on your wellies and macs and have a run around outside, if only for half an hour. That breath of fresh air, no matter how brief, can make all the difference to children copped up in wet weather. See what you think of these relay races, which can be adapted to fit the age of your Youth Group:
Egg and Spoon. The idea of this relay is to run with a raw egg balancing on a spoon to one designated point and then back again, without dropping the egg. The participant then has to pass the egg to the next person, and so on and so on. Sometimes this relay is played with fake eggs (bought as part of a kit), but you can use real ones outdoors - hopefully the rain will wash the remnants away.
Wacky Water. Groups break up into teams in two lines. At each end of the line is a bucket, the first bucket is full of water, the second one empty. Each child is given an identical plastic cup. When the bell sounds, the first child had to fill her cup with water, pour the water into the next child's cup, and so on and so on. The last child empties her cup into the empty bucket, then the next child starts. The originally empty bucket that now has the most water signifies the winning team. Warning: children may get even wetter!
Beaker Relay. Each person is given a beaker or plastic cup which they can easily grasp between their teeth. The idea is to fill up the beaker with water from a full bucket at one end, then empty it into an empty bucket at the other – only using their gnashers. Once it's done, the next player has a go. A wet variation of Wacky Water.
Top Tips
While relays can be fun, they also have a tendency to get out of hand. If you don't want the children's natural exuberance and excitement to simmer into chaos, follow these simple tips:
Keep in mind that the relay moderator is king: he or she makes all the rules, and players must abide by them.
Rules may be changed at any time – but only by the moderator, or with the moderator's consent.
To even out abilities, the moderator can choose to give some players a head start or handicap certain players. Again, it's all up to the moderator.
While children love to win, the goal of relay games is to have fun. Encourage healthy competition amongst members of your youth group, but don't let them lose sight of the game.
Safety should always be parmount. Some relays - like the Marshmallow Stuff - involve seeing who can stuff the most marshmallows in his or her mouth at one time, and can be a choking hazard. Always use common sense.
Relay games can be fun when the weather is rainy or cold – and some relays can even be played outside when it's bucketing down.
Just make sure you have enough towels handy when the members of your Youth Group come back soaking wet – and perhaps a change of clothes or two!
You might also like...