Our Youth Group's Got Talent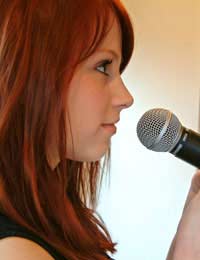 Talent shows used to be thought of as boring events, held as a mandatory school function overseen by the ageing music teacher, or as a dreary afterthought in the local Bingo Hall or nursing home.
But the popularity of such nationally televised programmes such as X-Factor and Britian's Got Talent means that now everyone wants in on the act – literally.
It seems that virtually every child or teen nowadays want to become a pop star, famous dancer or Disney actor, and while encouraging such dreams may be seen as questionable, there's no doubt that the interest is not lacking.
So if you need a cohesive event to bring the members of your youth group closer together, why not try a talent show? They can be an effective way to showcase the talents of gifted members of the group, and help draw out those who are less extroverted.
Best of all, when organised properly a talent show can help bring the members of your youth group closer together, teach them vital organisational skills, and even be an effective fundraiser…
Key Steps to Success
A talent show might seem easy to pull off, but a little planning can make all the difference. Follow these easy steps to make sure nothing goes all pear-shaped...
Choose the right venue. No doubt you'll be holding the show in the premises of the youth group, but maybe a nearby school or auditorium is a better place? Secondary schools often have stage lights and microphones, which you may not have. And they may even let you hold your even for free…
Find a good master of ceremonies. You will need someone who is funny and has a loud voice to introduce acts, and to smooth things out should an act not go as planned…
Choose your acts. Everyone in the youth group who wants to take part should be allowed to, but planning a good running order is important. Those who are too shy should be given other jobs: clean-up, selling drinks, ushers and greeters. Don't force anyone to take part if they don't want to.
Advertise the event. Will this be open to the whole community? If so, posters are important. Think also if you will need a programme or printed tickets.
Get some refreshments in. See if a local café or restaurant will donate food in return for advertising on your posters and/or programme. Many will.
Buy a trophy. A nice, engraved trophy costs less than a tenner, and it adds a certain validity to a talent show. Medals for the runners-up are also worthwhile, or you can purchase a medal for every participant.
Make sure you have a designated clean-up crew to hand - and the necessary cleaning supplies. You don't want to be caught short on the night, and finding a package of bin liners and a mop at 11pm might be a little difficult...
Top Tips
These top tips will help you stage a talent show that will be fun for both participants and audience members alike…
Let everyone participate. This should be an event to celebrate everyone's talents, no matter how great or how small. Don't just allow the gifted take part.
Seek out hidden talents. While a good singing voice and great dancing skills might be obvious talents, some kids may have ones not so easily seen. A child might be good at telling stories, or may have learned some magician skills nobody knows about. Take the time to learn what talents actually exist – you may be surprised!
Charge the right amount. Even if you are having a fundraiser, setting the bar at the right height is key. Charge too much and nobody will come. Charge too little and you're missing out on cash.
Be encouraging. Your talent show shouldn't be an episode of Glee. Encourage every child, and help more able children be encouraging as well. The goal is not to be the best or even make the most money. The goal should be to be inclusive – and have fun.
A talent show is a fantastic way for a youth group to show off what they've got – and have fun at the same time. When planned properly, the children will not only have a great time, but learn some good inter-personal skills and raise some money while they're at it.
You might also like...