Games for Early Teens (12-15 yrs old)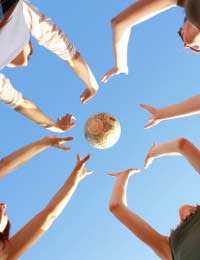 Teenagers are usually regarded as the most difficult age group to keep entertained. In a world which offers so much virtual entertainment through computer screens, television and the cinema, a youth group might seem quaint and old-fashioned.
However, it is surprising how many teens enjoy real-life interaction with peers through attending such groups, and a large part of that is down to games tailored for their age group. Here are some games and activities that ought to appeal to a youth group of 12-15 year olds.
Active Games
Spud - This game only requires a ball, ideally a small one such as a tennis ball, and it should be played outdoors. Each player is assigned a number. Then the leader throws the ball high into the air and shouts the number of one of the players; this player must catch or retrieve the ball, while the other players scarper as quickly as possible.

When the player has the ball in his grasp, the other players must stop moving. S/He then attempts to hit another player with the ball. If s/he succeed, the player who was hit gains a 'spud'. If s/he miss, then s/he gets a 'spud'.

The game then begins again with the leader throwing the ball up for another player. The player with the fewest 'spuds' at the end is the winner.

Dodge Ball - this is one of the games that teens seem to love the most. It is very simple, and again, it only requires a ball, though as this is usually played indoors, a soft, large ball is best. The teens must simply try to avoid being hit below the knee with the ball (usually the leaders get to do the throwing!).

There is almost as much fun to be had in watching the game being played as in playing it, so you needn't worry too much about those who are out of the game early on.

Not in My Half! - the simplest of games, again, but exhilarating and fun nonetheless. Divide the hall/space into two, or even four, depending on the size of your group, and split your teens up into two teams. You can then use beanbags or rolled up paper balls which must be spread out in each half of the room. On the leader's signal, each team must attempt to get rid of all their beanbags into the other team's half. This goes on for as long as you wish, but both teams must stop dead when you give the signal - if they don't, award penalty points. The winning side is the one with fewest beanbags left.

Dunk it! - you'll need a large field or sports hall for this game. Split the group into two teams. At each end of the field/hall place a waste paper bin, the target is for one team to dunk the ball into the other team's bin. The ball can be thrown, passed, kicked and bounced. Players can also run with the ball. If the player is tagged by the other team they must drop the ball. If the player can not move any further they must drop the ball. When the ball is dunked into their opponent's bin the player must shout 'dunk it!' for it to count. The first team to dunk the ball wins.
On Safari - give each person the name of a different animal e.g., lion, hyena, elephant. Make sure that only they know the animal they have been given. Make sure that you have a least three of each animal (depending on group size). Spread the group out so they are each in their own space, then on your signal each person must make the noise of the animal they were given. The first group to get all of their animals together and sit down wins.
Quiet Games
Scissors - teens love games which play with one's preconceptions, and this is a classic example. All it requires is a pair of ordinary scissors. The group sits in a circle. The leader then hands a pair of scissors to the person on his left and says 'Crossed' or 'Uncrossed'. The leader should show clearly whether the scissors are closed or open as he does so, but shouldn't actually say anything about this. This process then continues, with the leader either confirming the announcement (e.g., 'Yes, they're crossed'), or corrects the player (e.g., 'don't be so silly, they're clearly uncrossed!').

The 'secret' behind the game - which teens often take a little while to figure out - is that it depends on whether the person's legs are 'crossed' or 'uncrossed'! If you want, you can make it even more difficult by referring instead to the legs of the person receiving the scissors, or simply to the leader's legs every time.

I Went to Camp - another deceptive quiet game, where the leader starts by saying "I went to camp and I took a/an [Object]." The next player then has to repeat the phrase with another object, at which point the leader tells the player whether they can take the object or not. The 'secret' is that the object has to start with the same letter as the speaker's name.

Variations include the first letter of the name of the person sitting to your left, double letters (e.g. spaghetti, banner, ball) etc.

Who am I? - this game is fun for kids of any age. You'll need a pack of post-it notes and a pen. Write down the name of a famous character or celebrity on individual post it notes - enough for the size of your group - and stick them on the player's forehead so everyone can see them except for the person it's stuck to. Each person the gets to ask a "yes" or "no" question to the group about who they are. The person who guesses right first is the winner.
There are many other games which work very well with teens between 12 and 15 years old. For example, any sort of wide game played in an open space or in the woods at night is guaranteed to go down a treat; similarly, activities such as movie nights, cooking sessions or even make-overs work well. Yes, even boys tend to muck in with that last one!
Experiment with your youth group and see what excites them; think about giving them a chance to think up some ideas of their own, too. But most importantly: have fun! Why not check out some more games suited to mix gender youth groups?
You might also like...
bababooie
ben dover official
- 5-May-23 @ 10:35 AM
I LOVE TO SUKMA DEEK
SUKMA DEEK
- 5-May-23 @ 10:20 AM
I LIKE LITTLE GIRLS LIKE YOUR MUM
FAZE FAIZAN
- 5-May-23 @ 10:17 AM
Maybe add some online ones my kids are always begging to play electronics but Idk what
Warriorgrl@10
- 15-Feb-23 @ 3:59 PM
I can't find any good games put more hit top games up
Newnew
- 26-Nov-17 @ 6:10 PM
I think this will maybe help me a lot since I have a lot of things on my mind right now since I just started high school
Dedra
- 25-Apr-17 @ 10:38 PM
The games r autumn. I love them and enjoy playing
Harshu
- 14-Feb-17 @ 12:35 PM
- Play video games - Do art activities - Play wii - create race cars cartoon boxes inventions (eg :
youshi
- 26-Oct-16 @ 3:49 PM
Thanks it was really helpful especially if it's rain cause of a hurricane
Thank you..for these games..we use your games in our life skill training sessions in our villages...in karnataka ..India..:) thanku so much..lovely games..
rakshi..
- 5-Aug-16 @ 9:54 AM
I don't find this website useful but I do hope everybody does.......
BreeBree
- 10-Jun-16 @ 1:48 AM
I need to help for some games I can. Play I am 12 and trying not to think about boys.
my name is jeff my name is damion my name is jeff my name is jeff
eldred mable
- 22-Dec-15 @ 4:36 PM
This website is so amazing thanks it help me get along with my friends and interact with each other. So helpful.
lorsh
- 19-Dec-15 @ 2:59 PM
i am looking fir fun games i like one direction , 5SOS ,and i am fangirling over magconcameron dallas is my favorite i love shows that are not to fictional like zoey 101 i also like to watch a show called teen wolf and the vampire diaries i like to read and all in all i like to play games
a-baby
- 22-Jul-15 @ 1:45 AM
I love spud we play it every day!!!!
Shan
- 30-May-15 @ 1:54 PM
@Shama. Great! We hope you find the information on this website useful.
YouthGroupGames
- 25-Mar-15 @ 2:30 PM
We are finding games for a tution group which is including teenagers we want games which can be played inside the room it should give us knowledge and also fun for us ???????
shama
- 23-Mar-15 @ 12:23 PM
@Angel-Love FilipoB. Thanks for that - glad you found them useful.
YouthGroupGames
- 28-Nov-14 @ 2:13 PM
so I'm 14 yrs old and my form(4th-yr 10) were asked to host a series of outdoor games for twelve year olds and this site has made it easier these games seem really fun to play for both the leaders and students, thanks. may GOD bless you :)
Angel-Love Filipo B
- 27-Nov-14 @ 8:37 PM
@flowerpetals. Thanks, glad you found them useful. We will try and consider some more of the quiet games for the future. In the meantime though, you may find some other good games in the other sections despite them not being specifically in the 12-15 category.
YouthGroupGames
- 27-Oct-14 @ 12:18 PM
Hello we are both 13 and 14 year olds and these games are quite useful we were looking for games to run for the group and these were okay. Maybe more quiet ones could be explained.
flowerpetals
- 24-Oct-14 @ 6:31 PM
WHAT IS MY FATHERS NAME? WHAT IS MY MOTHERS NAME? WHAT IS MY BROTHERS NAME?
harshi
- 14-May-14 @ 3:19 PM
How are most of these fun??? I'm 12 and only 1 maybe 2 of the games are ok.
bob
- 29-Dec-13 @ 10:14 AM
Hi I am Shannon and my favourite group is one direction and the Vamps
shandy
- 30-Nov-13 @ 6:58 PM
ik zoek een aardig meisje van 12-15 jaar om mee te chaten ofzo en mssn onstaat er meer dan vriendschap mijn skype naam is(woutie_2000)ik ben 13 jaar ben een toffe jonge ik doe alles voor liefde en ik ben romantisch en lief dus ik zoek een sympathiek lief meisje dank :)
woutie_2000
- 14-Nov-12 @ 9:14 PM
These are great games! I am in 8th grade and we need fun challenges so that we can play. They do not need to be educational. We need as many people to participate in each game. What fun games can we play?
Mari
- 19-Sep-12 @ 1:41 AM