Youth Group Games for Disabled Children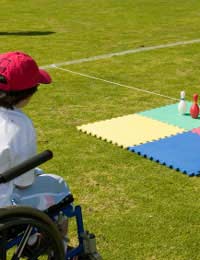 Disabled children often feel excluded from youth group activities, as so many depend on a modicum of physical prowess. But many games can be played by children in wheelchairs, and most beloved children's games can be adapted to suit children with varying disabilities, with a little ingenuity.
Many youth group leaders today are keen to encourage disabled children, as well as children with learning difficulties, into the mainstream as far as youth group activities and games are concerned, but they don't always know where to start.
Take your cue from the child, and speak to the child's parents if you have any questions or concerns. Usually, a little imagination and creativity are all you'll need to make everyone happy!
Sitting Games
These games can be fun for children in wheelchairs or who need to sit down for longer periods of time as they don't require much physical exertion. Adapt them to suit the age/development of the children involved.
Wink Murder Children sit in a circle. Each child reaches into a bag and pulls out a scrap of paper, on one is written the word "murderer". The murderer then has to wink and "kill" people without the others seeing. Players can guess who the murder is, but if they guess wrong they also die.
Feel the Difference: Place a number of different large objects in several cloth bags, such as a candle, a hunk of bread, a mobile telephone, a tissue, a leaf and more. Each child gets to feel the bag and identify one object without looking inside, then pull it out before it gets passed on. If they pull out the wrong thing they have to put it back.
Board Games: Kids - and adults - of all ages love board games, which can encourage the development of maths, reading and social skills, depending on the game. Bring on some old-time favourites such as Monopoly and Cluedo. You could even let the kids try their hand at poker, with play money and a real prize at the end.
Arty Smarty Games
Non-disabled children as well as disabled children who need quieter activities or who are less mobile may enjoy some of these fun activities, which can be done as part of a group or independently.
Biscuit Decorating: A great activity that is loads of fun when it's over as well, as you get to eat the finished product. Bring in some hard biscuits, cover them up with icing, then add sweets and sprinkles. Yum!
Face-Painting: Virtually all children love to have their faces painted, either as a pirate, a tiger or a beautiful fairy. Get in a face-painting book and ask the older children to paint the faces of the younger ones.
T-Shirt Designing: Let the children's artistic talents come to the fore with this fun activity. Buy acrylic paints or markers and some cheap white t-shirts, or have them bring in ones of their own. If a child needs help, team them up in pairs.
Wheelchair Games
Being a wheelchair user doesn't mean you don't want to enjoy the fun and competitive spirit that goes with playing sport. Many people who start playing wheelchair sports as children go on to play them professionally as adults. Some ideas include:
Wheelchair Basketball: Perhaps the most popular wheelchair sport, all you need is a hoop, a ball and a couple of kids in wheelchairs.
Wheelchair Rugby:Not for the fainthearted, this is also called Murder Game. Can be brutal!
Wheelchair Bowling. Many children in wheelchairs are very capable of bowling, with a little help. A nice activity for children who don't want to participate in team sports.
Computer Games
Older disabled children who have problems with their motor skills don't have to play "baby" games on the computer. Many accessible computer games are available online, which have been adapted to children with special needs.
The game speed can be slowed done, the time limits increased and the objects made larger on the screen. For older children with cerebral palsy, for example, these games can be loads of fun. If your youth group offers computer time, make sure you find out what type of accessible games you can make available to your members.
Severe Disabilities
Children with severe or multiple disabilities can still get enjoyment out of simple games; the challenge is to find ones that suit them best. Here are just some:
Blowing Games:Children with quadriplegia, and others, need to make the most of their respiratory functions, which is why blowing bubbles, pinwheels or ping pong balls across a tabletop can be both fun and helpful.
Parachutes:Brightly coloured and blowing in the breeze, it's no wonder that parachutes are loved by most kids. You can strap on onto a wheelchair and watch it go, or sit in a circle and blow it up in the air. Putting cuddly toys on top or singing songs adds to the fun.
Making youth group games accessible to disabled children may take a bit of clever thinking, but it's really not that hard. Keep in mind that individual activities may be more suitable than actual games for some children, and that not every game will suit every child. When you make the games enjoyable for both the disabled and non-disabled members of your youth group, you'll know you've succeeded.
You might also like...
Hi, I'm looging for cricket or table tennis or badminton that will help me. My one Leg is defective from polio. Could you think or do you know about anything like this? Please guide me. Thanks - Rajesh
Rajjo
- 29-Jun-19 @ 3:41 PM
sklfnsaf osdjs owodijweioef iadnda fisfsnf skfsfn iasfniwef iwjsiio\md jfuhrjdns fjisaifais isafeif iwiksfjdkf ikiid dj dj snd jjt wir ru fjdjdjs ehwjerjf sjdjd sfnwifn ??? ???? ????? disfns osfjsf gih djfd tnwueud euruasiofie fiqfhaiafjasfkifjsdic dnmdm dksakfslf wisdmsdksmd ????? ??? ??? ???? ????? ????? ?? ???? ???? ?????? ?? ????? ???????? ??????? ??? ???? ????? ??? ???????? ?????? aufnsfa oeoe dvzfcvzv dv ?????? ? ?????? ? ???? ? ???? ???? ???? ??????? ?? ? ??? ????? ?? ????? ??????? ???? ?????? ?????? ? ????? ??? ????? ???? ?????. sdkfsdif aiaeff aokof! :)
sdkjvnkcvn
- 24-Jun-19 @ 10:24 AM
I'm just asking for any activity to do with my disable child. Which just lying on his back. No feeling in his hand. Any advice would be very appreciated. Thanks
So this year the AWANA club that I help out with wanted me to lead games. I'm horribly new to it and trying my hardest to make sure everyone has a great time. We have a few kids who can't keep up as well as the others. One in particular really can't do anything more active than a walk. I was hoping there might be a list of games somewhere that would be fun and stimulating for all the kids but help include those who can't keep up as well. Thanks.
Mr. Jordan
- 13-Sep-17 @ 4:37 AM
TEXT HERE
Jarrett - Your Question:
I was looking for some type of activities for my son. He has downs syndrome. He is 18. I am having trouble finding something for us to do.
---
Our Response:The Downs Syndrom Association has some ideas
here
and
here
but many of the other general games and activities our website will be suitable so we hope you find it useful
YouthGroupGames
- 14-Dec-16 @ 12:37 PM
I was looking for some type of activities for my son. He has downs syndrome. He is 18 . I am having trouble finding something for us to do.
Jarrett
- 13-Dec-16 @ 5:30 PM
Hi, I'm looging for any kind of game or activity that will help my disable child to draw. He's only able to move his fingers. Could you think or do you know about anything like this? Thanks - Daniel
Daniel
- 15-Apr-16 @ 7:34 PM