Imaginative Games for Teenagers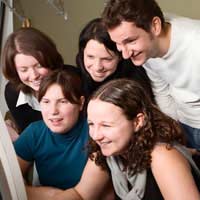 Imaginative play is greatly underestimated in the lives of our children. Scientific research has proved that children who are given myriad opportunities to participate in unstructured, imaginative activities grow into well-adjusted adults. Teenagers, who are notoriously difficult to pull away from their Playstations, Wiis, computers and Nintendos, need imaginative games more than anyone. So much of their lives, both in school and after school, is centred around competition, so using their imagination gives them a unique chance to escape from the confines of both school and peer pressure.
Teenagers who are not actively encouraged to make full use of their imagination may some day lose the ability to use it at all. Imaginative youth group games for teenagers can stimulate their brains and encourage their creativity, helping them to become healthy adults.
Picture This!
Here is an unusual take on the scavenger hunt, which allow teens to make use of their creative abilities as well as their photographic talents. Each team is given a watch, a digital camera and a list of items they have to hunt down and photograph, such as "teacup", "old sock", "round ring" and "rubber duck". Or you could make it more imaginative, with "something green from nature", "something over 6ft tall" etc. Give the teams a specific length of time to complete photographing as many items as possible, after which they have to return regardless of whether they have completed the task. The team that has taken pictures of the most items wins.
Encourage each team member to be as creative and imaginative as possible in deciding which photos to take – their choices may surprise you. Less obvious photos get extra points, so watch out for the unexpected...
Record Breaker
The idea of this game is to set as many "records" as possible – but they all have to be wild and wacky. Ideas can include memorising a list of household items, bouncing a basketball the longest period of time, blinking the fastest or burping the loudest – it's all up to the teens themselves to use their imaginations and get creative. It's important to have a good mix of records based on different qualities - endurance, stamina, intellect, strength – to make sure that nobody feels left out. Everyone is good at something, even if that means balancing a spoon on their nose for seven minutes.
Make an afternoon or evening of this game with silly prizes and an even sillier awards ceremony. Keep track of the records so that next year you can compare with the previous year. If this becomes an annual tradition – and it certainly will – you're certainly on to a winner.
Celebrity Head
Write down the names of 25 popular celebrities your teens will be familiar with on pieces of paper that attach easily to paper headbands. The person who is wearing the paper headband should not be allowed to see what is written on the paper.
Choose three teens to sit in front of the group wearing a headband. They then have to ask the other kids questions about their celebrity, but only ones which can be answered "yes" or "no", such as "Am I blond?" or "Did I star on Big Brother?" or "Am I a footballer?" Once they get a "no" their turn is over, and it's time to move on to the next player. The teen who guesses their celeb first wins. This is a good game to encourage teens to think outside the box, and to help them build confidence in front of a group. It also helps them to build their self-esteem directly in front of their peers, which is an invaluable life skill for now and future.
Improvise Away
Here's an improvisation game that really gets the laughs going – great as an icebreaker game or with teens who know each other well. Write several famous lines or phrases on individual pieces of paper, then place them in a hat or box. Have two, three or four teens stand in front of the group, with one choosing a phrase. Then time them to act out a scene for at least three minutes, starting with that particular phrase.
Not only does this game get teens' imaginations going, it also allows those who normally are a bit shy about joining in have the chance to take part. A clever youth group leader will make up teams of shy and less shy teens, to make sure that everyone has a chance to give it their all. If you want, you can also have them dress up for extra effect.
Teens learn about themselves and others, and often set the foundations for their future life, through using their imagination. Youth group games which encourage them to do exactly this can be both fun and educational – why not give them a try?
You might also like...
games tokeep teenagers away from canabis
Denise
- 26-Jun-21 @ 11:09 AM
I need More I have 4H tonight and this isn't much help
Emmy
- 7-Jan-19 @ 11:11 PM
i would like to be informed about activities and most progamms that for youth,
dez
- 29-Oct-18 @ 3:47 PM
I would love to have a list of games good for children with learning difficulties
Candies
- 18-Mar-16 @ 5:52 AM