Summer Games for Youth Groups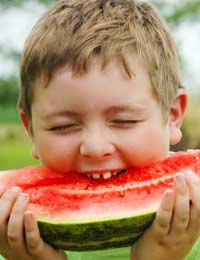 What is it about summer? There's something in the air which makes the heart sing, and the world seems fresh and new. For youth group leaders, however, the prospect of several unruly children, freed from their burden of arduous education, with plenty of light and space in which to run around, may be slightly less appealing than a sunny beach and a cold drink.
Never fear, though: this article will furnish you with some summer games designed to appease those energetic children in a seasonal fashion.
Summer Games
Surely one of the most important things to do in summer is to get out and enjoy the long days and the warmth of the sun. Allied to this is the fact that children these days are increasingly shunning their need for exercise and activity for entertainment relayed through a screen of some kind. It is your job, then, as a youth group leader, to provide some seasonal games which will bring summer to life.
Here are some ideas for games to be played in summer time:
Summer Olympics - this requires a lot of forward planning, equipment and space, but it's well worth your while. You should organise several events based on real athletics events, but perhaps with a twist - for example, a relay race can become a 'Suitcase Relay' where each runner has to wear ludicrous clothes as they run. Another good option are water-based games such as the one which requires teams to fill up a bucket as quickly as possible - by filling a cup/jug from one full bucket, passing it backwards above and over their heads and then emptying it in the bucket behind them.
Similarly enjoyable, especially in hot weather, is Water Bowling; fill large bottles with water and set them up a certain distance from each other (leaving the lids off), then get teams to attempt to knock over the oppositions' bottles and empty the bottles. You can either play until the bottles are empty or measure the amount of water left after a certain time. The Olympics can also be a good idea for arts and crafts, as each team can have the opportunity to create their own flag, name and outfits, and then you could even have an opening ceremony where they sing an anthem of their own choice!
Duck, Duck, Goose and Duck, Duck, Drip - most youth group leaders are familiar with the first of these games, as it is a staple of youth groups across the world. However, there is a little known summer variation which can really help to cool people down as well as warming them up! Instead of tapping each player on the head, the person walking around the circle must drip water from a cup onto each person's head, until they empty it completely onto the person who they have chosen to chase them!
Watermelon Games - this might cost a little much for some youth groups' finances, but there are a surprising number of ways to use watermelons, and youth groups can frequently eat a large amount of the resulting mess! These games can range from the sublime (Watermelon Helmet Contest - where teams craft headgear out of the fruit) to the ridiculous (Watermelon Seed Spitting Contest - need one say more?). Another good one is a version of Water Bowling, the game described earlier; instead of making it a team game, fill up some 2-litre bottles with water and have players or teams bowl melons at them to knock them over. Bonus points if a bottle is split.
As you can see, there are a huge variety of summer games for youth groups to play. Hopefully these have given you a lot of ideas for next summer. Don't forget to plan well in advance, and always have a couple of easy, no-equipment games handy if you have a little extra time. Also, remember to keep your youth group well hydrated with the sun beating down. Otherwise, enjoy playing these summer games - and check out our Christmas/winter games when the darkness is looming!
You might also like...
the best summer game for my child is wrestling in my bed with my dog with my neighbours cat for the culture , our dog n their cat gets tired very quicky as they cannot last long in the bed, i get jealous watching them do a madness, they r on a mad ting. the watermelon shown above is the watermelon we produced in the bed,the ppv is FREE. de worst thing about this is the bed gets dirty filled w white stuff like their fur. if you want 2 join pls call 07503782398
askurmum
- 7-Jul-23 @ 10:09 AM