Cultural Games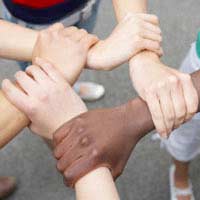 Our society is a melting-pot of different cultures, ethnicities, and backgrounds. We see this in the newspapers and on TV every day, and worryingly, we see the negative results of a lack of integration and tolerance. The main reason for this fear and unwillingness to find common ground is almost always ignorance about other cultures.
At first glance youth groups have little to do with this, but they can actually perform a vital role in cultural conditioning; by playing cultural games, we can educate children, helping them to learn about other cultures and people groups.
Say Hello
This is a very good icebreaker game, but it can also be used at various times or as a regular cultural game in particularly ethnically varied youth groups. The group must simply attempt to say 'hello' in as many languages as possible. If this is too simple, you can make it competitive by splitting the group up into teams; similarly, if 'hello' gets a little boring, try other phrases such as 'goodbye', 'my name is...' or 'I am ... years old'.
One way of maintaining interest is to play at every session, but to encourage children to learn new phrases and greetings for next time.
You could have a running chart of which team or child is doing best at learning different cultural facts. If your youth group is made up of particularly young children, consider reading out 'hellos' from a list of different languages and asking them to guess which countries they come from.
What's In a Name?
This is another cultural game which helps children to learn about other ethnicities and cultures, and to embrace different backgrounds. Again, it is a very simple cultural game - you could either sit in a circle, or split the group into pairs and have each partner report back on their colleague. Children should ask each other questions about the origins of their names, and what they mean.
In younger groups, this may require some help from you in the shape of a baby names book which will have many definitions and explanations of the meanings of different names. This is one of the best games for establishing respect between cultures and allowing the children to develop their communication skills.
World Meals
This is a fascinating cultural activity which gives the children valuable insight into the privileges of Western culture, and the difficulties that other countries and people groups face. The World Meal is a small amount of rice and beans which demonstrates the typical calorie intake of the average person in the average country. This will also open the kids' eyes as to just how much food is available to the rich countries, and hopefully instil a sense of injustice at the immense disparity.
This cultural activity can also be repeated - one youth group session could involve the children cooking the meal for their families, for example. In this way the message can be spread wider than just the kids who attend the group.
Cultural Intelligence Test
This can be made into a competitive cultural game, or it can be done as a group activity. It is a well-known fact that Western intelligence tests rarely take account of different cultural backgrounds or ethnicities - one of the main reasons why those of different ethnicity often struggle in our education system, despite no lack of ability.
In this game, you should research some intelligence tests based on different cultures; for example, have a test based on Jamaican patois language, or the names of some traditional North Indian dishes, and see how well the children cope with the difficulties which ensue. This helps children to develop a sense of respect for other cultures, which are just as advanced as their own, but in a different way.
You might also like...
wonderful website finally one that gives good tips on games and practical advice on running a youth group ;o) many thanks