Games That Make the Most of Autumn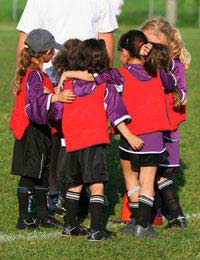 When you run a Youth Group, the weather can play a big role. When it's cold and gloomy outside, it's important to think of fun, interesting games that can raise mood levels. And when it's sunny, it's a good idea to take as much advantage of the weather as possible.
But while most people can easily think of games to play when the weather's nice – as well as a variety of games to play when there's snow covering the ground – it can be harder to think of autumn activities to keep the kids entertained.
Autumn is a wonderful season, however, and there really is no reason why you can't tailor some of your youth group's game and activities to this time of year. One advantage is that you'll keep the timetable of activities varied and interesting, as autumn games are only really worth playing during the autumn months!
Outdoor Sports
There's never been a better time to play, before it gets too cold. If the weather is a bit chilly, have warm drinks and snacks on hand for when the kids come inside. Here are a couple of games to get you going…
Choose the sport. Have the children brainstorm games they would like to play: football, Red Rover, basketball, netball etc. Write all the games down on scraps of paper, then put into a hat. Have a bell and play one game for 15 minutes – ring! – another game for 15 – ring! - and so on. A good way to tire children out before going-home time.
Leaf Hunt.Print information about local leaves from the computer, or get some books from the library. Select a list of leaves to find, then send the kids out on a Leaf Hunt. Fun for bookish and non-bookish kids alike.
Silly scarecrow. Ask the children to bring in bits of old clothing, hats etc, and bring in some hay or grass. Divide up into groups and have an outdoor contest to see who can make the best scarecrow, fashioning either a pillow head or one made from a mask. Give token prizes or medals.
Outdoor Art Activities
The most discernible characteristic of autumn is the abundance of leaves, seeds and other plants that are literally everywhere. Take advantage of the leaves with these games and activities, which you will have to tailor to the specific age level of your group:
Leaf placemats. Have children bring in leaves they have collected from outside, then press them in heavy books for a day or two. Glue them flat on a large piece of A3 paper, then laminate them. A set of six makes great placemats, which can be gifts for Mum or sold as a fundraiser.
Leafy t-shirts. Have the children bring in old, plain t-shirts, and place a large piece of cardboard between the front and back. Collect leaves of different shapes and sizes and dip in permanent poster paint. Press onto the shirts to make unusual leaf designs.
Seed art. You'll need string and needles for this one. Take the kids on a long walk and collect seeds, conkers, acorns etc. have them string the collectibles into a necklace, or glue them on paper to make autumn art.
Fake fossils. Get in some plasticine, then send the children on a Fossil Hunt, collecting sticks, leaves, stones etc. Have them press them into the plasticine, then take out and fill tightly with Plaster of Paris. Leave to dry for at least an hour and peel the plasticine away to reveal a perfect fossil. Eager kids can even write a "history" of their find to accompany the final product.
Autumn vegetable fun. Take a bunch of autumn vegetables, such as courgette, marrow, onion and beetroot. Slice into big chunks, then put to one side. Have several bowls of poster paint handy in different colours. Dip the slices into the paint, then stamp out designs on pieces of large paper.
When the days begin to get shorter and the weather turns a bit brisk, there is no reason why children should sulk indoors. Make the most of the autumn with seasonal games and activities – why should children stay cooped up indoors until the weather gets warmer?
You might also like...