Top Tips to Keep Younger Kids Busy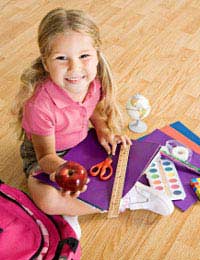 Running a youth group is hard, and things can be made even more difficult when you have a variety of ages to cater for.
Keeping younger children busy while the older ones take part in their own activities is definitely an art, and it's important to do it right to avoid the group becoming potentially divisive.
These tips are sure to keep the younger ones happily entertained for hours while the older ones are busy playing football, watching a film or just doing their own thing – you can have your cake and eat it!
Outdoor Fun
Older children often like to take part in organised sports that aren't always appropriate for the younger ones. So how do you keep them happy while a football game is going on? These outdoor activities should fit the bill…
Treasure chest. Most youth group leaders have a supply of special games that only come out occasionally, so that the children don't tire of them easily. Outdoor games in the chest could include Frisbees, skipping ropes, hula-hoops and sand toys. These will all keep the little ones entertained for hours.
Produce a play. Ask the little ones to produce an outdoor play that they will present to the entire youth group near the end of the session. Bring a packet of biscuits and some lemonade, and tell them refreshments will be served. They can make their own tickets and design a poster – keeping everything secret from the older ones until the production begins!
Tent time. Help the younger children make a makeshift tent or fort using old blankets, chairs etc. This can be their "secret clubhouse", and only children under age 5 or 6 will be granted permission to enter. Who could resist that?
Set up shop. Ask the younger children to set up a shop they will open to the older ones. The shop can "sell" creative arts, indulge unusual hairstyles or offer other services. They can fashion their own money and you can provide a snack they can "sell". Great fun for everyone.
Quiet Time
When the older children are busy playing a game that's too complicated or boring for the younger children, this is a time when you want them out of your hair – and quiet! Here are some quiet activities that will keep the noise level down…
Basic crafts. Most youth groups have basic arts and crafts supplies on hand. Introduce something new – sparkles, string, buttons – so they won't get bored. Tailoring art projects around a theme is always a good idea.
Junk modelling. Encourage the little ones to get creative by building models from old milk bottles, shampoo bottles, kitchen towel rolls etc. All you need is old rubbish, and some glue, tape and magic markers. Great way to learn about recycling as well.
Colouring pages. Children love to colour, and colouring pages are now easy to print off the Internet. Ask them what their favourite TV characters are, and have a supply of colouring pages featuring them handy at all times.
Playdough. Make your own or buy it from the shops. Make a playdough picture frame, playdough necklace or playdough castle. It's all good.
Design a news book. Keeping a news book can be a running activity. Ask the child to write a sentence about what they did over the weekend and illustrate it. Keep their pages in their own special book and present it to parents at the end of the year.
Keeping children of all ages happily entertained is not an impossible task - you've just got to know how.
One way to encourage a sense of cohesiveness from the start, if you have a youth group of varying ages, is to start a Buddy programme. Match an older child to a younger one and have them look after each other throughout the sessions. Both will benefit from the relationship.
Hopefully, these top tips will help put you on the path to success - and make sure everyone enjoys themselves as much as possible.
You might also like...
Would like to be your affiliate as GOD'S KINGDOM ASSETS. You people are doing a good job.
son ofman
- 10-Oct-15 @ 4:23 PM