Games for Large Groups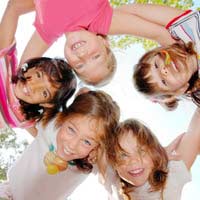 Having to entertain a large group of children is a tricky feat, but one that many youth group leaders face on a daily basis. While the temptation is to divide the children up into smaller groups and let them do their own thing, it sometimes is nice to have all the kids participate in a game together. With a bit of careful planning this doesn't have to be a major headache, and can be enjoyable for both leaders and children alike.
Red Rover, Red Rover
A game which can accommodate an unlimited number of children – the more the merrier! Divide the kids into two large groups, and have them stand at least 25 feet apart, facing the opposing team. Instruct them to hold hands – as tightly as possible – and then pick a team to begin. The starting team then cries, "Red Rover, Red Rover, send Tommy right over!", naming a child from the opposing team. Tommy then has to break away from his group and run as fast as he can, attempting to break through enemy lines.
Children have to work together in this game, or else weaknesses will form in the chain. It's also a great way for children to get to know each other's names, and dispel some of their pent-up energy. Just make sure you set some specific ground rules from the start to avoid injury, such as no use of legs, no elbowing etc.
Copycat
This relaxing and fun game is ideal for indoors or outdoors, and works best when there are as many players as possible. Choose a child to be "it", then have him or her leave the area. The other children then sit in a circle, with one person chosen to be the leader. They then start rhythmically clapping their hands in unison when the child re-enters the area.
Once a rhythm has been established, the leader then surreptitiously changes the rhythm, using a series of different actions. This can be snapping their fingers, rubbing their tummy, stamping their feet etc. As soon as the other children notice, they have to follow suit – hopefully as seamlessly as possible, without letting "it" see from whom they are receiving instructions. The idea is for "it" to figure out who is the leader – a much more difficult task than it seems. They have three chances to correctly identifies the culprit before their turn is over.
Tower of Mallow
Divide the youth group members into teams of eight or more, and give each team several packets of both marshmallows and dry spaghetti. Then ask them to build a marshmallow tower as high as they can, preferably one that can reach the ceiling (or its equivalent, if they are outside). The tower has to be able to withstand its own weight, and the tallest wins a prize.
This game is perfect to teach children of all ages about teamwork, cooperation, friendship and coordination. It also can give the youth group leader the opportunity to break up any cliques that have been forming among the children and foster new friendships among children who haven't played together before. And marshmallows are yummy!
Chinese Whispers
This fun yet silly game works best when there are loads of kids around to take part. Children sit in a circle, then one child whispers a sentence to the child on his left. The sentence then gets whispered to each member of the group in turn, going around the circle in a clock-wise direction. When the whisper comes full-circle – literally – the last person to hear it says it out loud, while the first person then confirms the original. It's a dead cert that they will not be the same!
This game is fun as an icebreaker or otherwise, and is a fun calming game when the kids get a bit out of hand, or at the end of an active day. It's a well-loved game for youth group members will into their early teens – both boys and girls who love to get silly will adore it. Elsewhere on this site you'll be able to easily find several games that are suited to large groups. They include:
British Bulldog
Shuttle Relay
All Hands on Deck
Dodge Ball
Planning a game for a large group can be tricky but with a little forethought it can be done. Many of these games can be played as icebreakers, or with youth group members who are already fast friends. They're a great way to include as many children as possible, and ensure that everyone, no matter how large your group is, has a good time.
You might also like...
Hi there Thank you very much forall the information about youth group games. i will be starting a youth and children group soon and i need all the assistance i can get.the reason why i am doing this. i saw that most of our children lack self confidence and there is not much that they can doduring holidays and on Saturdays when it comes to sports and games especially on disadvantage communities . Warmest Regards Peace
PEACE
- 17-Jan-17 @ 7:39 AM