Games to Improve Specific Skills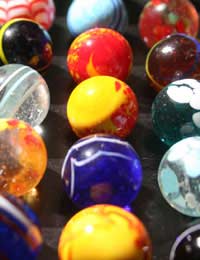 Every child has their own special skills and talents, and making the most of them can benefit both them and society. You can't lose if you plan youth group games and activities built up around the children's strengths – and they'll benefit as well!
Athletic Skills
Being athletic is considered a must in today's society, but not everyone is up to the task. Children with poor athletic skills often suffer rejection by their peers, so helping them find a sport they enjoy – and one that will make them more capable - can be a youth group lifesaver.
Traditional outdoor sports
These are the most obvious games to improve athletic skills, from football to cricket to archery, as well as traditional playground games such as dodgeball. When weather permits these are great, but include some non-competitive games as well. Marbles, anyone?
Indoor or Outdoor Rounders
A game of rounders gets everyone involved and helps to improve bowling, batting and catching skills as well as giving kids a run around. Use a softer ball if kids aren't used to the hard variety and either a rounders or cricket bat will do. This is a game that can be played indoors in the church or community centre hall for example, but with tennis table bat and ball instead to avoid breakages.
7Ball
Another great indoor sport, requiring thick markers, three dustbins and seven tennis balls. Arrange bins in a row facing the players. Decide where a throwing line is, move the bins seven feet away and mark it. Kids take turns getting the balls in the bins and score points. As they improve, so do their confidence levels.
Artistic Skills
Playing games which encourage children's artistic expression is important, especially for kids who like crafty activities more than anything else. Here are just a few to get their artistic juices flowing...
Live Sculpture - Get in a load of cheap or inexpensive "art" supplies, such as clingfilm, aluminium foil, fabric scraps, sequins, old feather boas etc. Then divide the children into groups of three, with one child designated as the "living sculpture". The team that makes the best artistic expression in the allotted time wins a silly prize.
Toilet Paper Outfits - Partner everyone up and give them each several (cheap and recycled) loo rolls. Then time them to make the most creative outfit in five minutes, judged by their peers. Pre-teens in particular love this one!
Night at the Museum - Pick a topic and have the children in the youth group create their own museum around that theme. Then plan an evening, or afternoon, for parents and other invited guests to admire their work. Serve refreshments and make a party out of it!
Intellectual Skills
Brainy kids will love these games – and hopefully so will everyone else...
Poetry Night - Both younger and older children love poetry as a way of expressing themselves. Encourage this self-expression by staging an evening – or an afternoon – where they can read their masterpieces out loud in front of their peers. You can include song lyrics as well for teens.
Interview Me - Have each child write the names of five people they would love to interview on five scraps of paper: David Beckham, Hannah Montana or even Gordon Brown. Then they pick scraps of paper and take turns being the interviewer and the interviewee. Later they will have to present their findings to the entire group. A great way for children to collate their thoughts and perfect their writing and speaking skills.
Social Skills
Learning to be an active and productive part of society is something all children need to learn and games which reinforce cooperation, sharing, tolerance, empathy, listening and friendship are invaluable. Here are just a few games to set your youth group members off to a good start:
Ball of Emotion - Buy at least 20 inexpensive coloured balls and write a specific emotion on each one, such as "happy", "angry" or "scared". Divide the children up in groups of ten and have them pick a ball, one at a time, and act out the emotion. You can also play catch in a large circle with the balls, the person who drops the ball has to act out the emotion written on it. A great icebreaker.
Five Alive - Ask youth group members to divide themselves up into groups of five, then ask them to write down their five best traits. When they're done, they take turns reading them aloud, with no comments allowed. When everyone is finished the lists are open to discussion. Youth leaders can ask why we are proud of who we are, and whether we should be shy in revealing too much.
My Beautiful Life - Divide children into pairs, and have them tell the most exciting story from their own life. It could be about a recent camping trip, the time they went on the world's highest roller-coaster, or when they were in a car accident. Then they recount the other's story to the group, after which each one is voted on to get an award (every story wins). These can be Most Exciting Theme Park Experience, Scariest Outing or Messiest Weekend – anything goes!
You can't go wrong when planning youth group games and activities that play up a child's specific skills set. These games are not only fun but educational, and will reinforce those who already have accomplished certain skills, as well as help those who are still working on them.
You might also like...