Wide Games for Youth Groups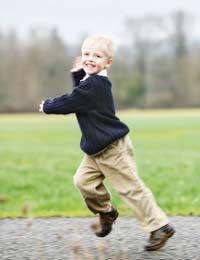 Wide games are an essential part of any youth group leader's armoury. From complex wide games with lots of preparation, to simple games with little to no set-up time, wide games are almost always enjoyable for all concerned. They help youth of various ages to learn skills and have fun into the bargain. This article will discuss some different variations on the wide game.
Simple Wide Games
The most simple form of a wide game is very easy to set up. Divide the youth into two groups. Each team should then build a small circular base which constitutes the area they have to defend. Each team's aim is to get as many people into the opposing base as possible. The way that players are caught can vary depending on the size of the area you are playing in, and the age and maturity of the youth involved.
If it's a large area, and the youth can be trusted to keep their heads, the best way of playing is to give each player a 'life' - usually a piece of wool tied round their wrist. They can only mount attacks on the opposition base when this 'life' remains intact; if an opposing player snaps it or steals it, they must return to base and get another one. The winning team is the one with the most players in the opposing base.
If you are playing in a smaller space, or with less mature youth, you may want to turn the way players are captured into a version of Tag, so that you can monitor their behaviour more easily. If you wish to make the game more complex for an older youth group, consider turning it into a 'Capture the Flag' type game, where each team has a small object in their base that the other team must steal and bring safely back to their own base before being caught. This makes the game much more strategic, based not only on speed and power but on timing, decoys and sleight of hand. Youth groups typically enjoy these games very much.
Another alternative is to play a version whereby the object of the game is to capture as many opposing players as possible. This means each time a player is captured, they must return with their captor to the latter's base, where they must wait to be rescued. Team mates can rescue players by tagging them, but of course this is a great risk, involving going right up to the enemy base. The winning team is the one with the most opposing players imprisoned in their base.
Complex Wide Games
There are many more complex variants on the wide game theme for different youth groups. One excellent version combines the wide game with another well-known game, "Elves, Wizards and Giants". This one is great for a youth group of varying sizes and ages, as it removes the need for physical contact. In this game, the youth are given a token along with their 'life' which bears either 'Elf', 'Wizard' or 'Giant' on it.
The game is the same as the first game described, but instead of wrestling or tugging to win the life band, the youth can compare their tokens. Giant beats Elf, Elf beats Wizard and Wizard beats Giant. The loser must return to their base and get another 'life'. You can make this game a test of memory by only allowing each player the same token throughout, so that they build up a picture of which players are which characters, or you can allow them to swap tokens so that they can take their revenge on someone who won their 'life'.
There are many other variants on these games, and one of the benefits of the wide game is its versatility. Be imaginative in how you set up the games, and your youth group will love to learn to play whatever mad inventions you dream up. Of course, you should make sure that everyone is kept safe, so don't push the boundaries too much. But most of the time, youth groups will love the freedom and the competition involved in wide games. Have fun!
You might also like...