Silly Games for Younger Kids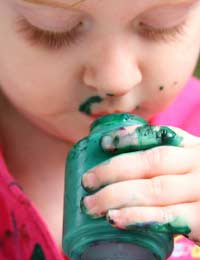 Children of all ages love to be silly and have fun, without worrying about what others think. Don't underestimate younger ones in the youth group – even they understand the difference between a silly and a more serious type of activity, and they will relish the chance to act like the little kids they are!
Makeover Madness
Children as young as four will love this game! Have the children bring in hairbands, combs, brushes, hair-clips and some of their mother's old make-up beforehand, or take up a collection to buy these cheap items from a pound shop, or its equivalent.
Divide the girls into pairs, then let them each pick a boy on whom to perform a whacky makeover. The winner is the one voted as the "most beautiful boy" by the group. You can also add hats or clothes, if desired, and have the boys make over the girls. Makes great photos!
Similarly, buy cans of whipped cream (the squirty kind) and let the boys "shave" the girls with a spoon, after slathering cream all over their faces. Set an egg timer and make them perform this "task" in one minute or less, or time them to see who can do it the fastest. Winner gets a prize.
Blindfold Banana Split
This one's best played outside. Have the kids divide into pairs and build a small ice cream split – with ice cream, bananas, chocolate sauce, whipped cream and sprinkles (cherry on top optional). Then get one child from the pair to sit down, while the other stands wearing a blindfold (a tea towel will do).
The idea is to have the blindfolded child feed the other the entire ice cream sundae, with others judging to see who wins a prize. Categories can be "Messiest Eater", "Most Tidy Eater", "Most Ice Cream on Shirt" etc. Great fun and a fantastic way to cool off when it's hot.
Teddy Relay
Little ones will love this take on a Teddy Bear's Picnic. Have each child bring their favourite bear (or other cuddly toy) and a shoebox from home. Spend an hour or so having them decorate the shoebox any way they wish, glueing, painting and sticking. Then cut a small hole at one end and attach a piece of string or twine, four-five feet long.
Once the shoeboxes are ready, set up a race area outside. About one-third into the runway indicate a demarcation line, where the teddies or other animals will be placed. The children will begin running, pulling the shoebox on the string, then stop and place their animal inside the box, before continuing on.
The winner is the child who gets to the end of the runway and back, with the animal still reclining inside the box. If it falls out, they will have to stop and place it back in. There are lots of fun antics as they scramble to assemble – and re-assemble - their animals as they compete!
When Pigs Fly
A great game for the youngest kids in the group. Have everyone stand in a half-circle, with one child chosen to be the leader. He or she will start by calling out an animal that really flies and flapping his or her wings. The game continues as the leader calls out "Ducks fly", "Geese fly", ""Swans fly" etc and continues flapping.
Finally, the leader will call out an animal that doesn't fly - "Pigs fly" - which means the children have to stop flapping. When a child continues to flap, he or she has to sit down. A fun take on Musical Statues that also encourages smaller children to think about different animals.
Burp, Baby, Burp
If this game sounds unusually silly, that's because it is! Divide the group into two teams, either girls and boys or teams of identical numbers. Split each team into two and have one side tie baby bibs around their necks. Don't worry if you don't have real bibs, they can use tea towels, scraps of material, old t-shirts or even kitchen towels.
The side not wearing bibs has to then feed the other side a jar of baby food – or a bowl of any type of mushy food, such as porridge or applesauce – and have it washed down by a (very) fizzy drink. Part of the fun is that one team member will have to hold the drink up to the other person's mouth.
As the name suggests, the first team to get two, three or four members of their side to burp – assuming that they have actually eaten some food first – wins. A very messy game but one that is hilarious for the 4 – 7-year-old set. Yes, it's a bit revolting – but for an outdoor game on a hot summer's day it's great fun.
Silly games provide amusement – and a break for the adults - when youth group members have lots of energy and would benefit from a fit of the giggles. The above silly games are simple and suitable for children as young as four. So fun, in fact, that you might even have the older kids begging you to join in...
You might also like...
This is NOT okay! Sniffing paint is not a joke!!!!!
NIGHTMARE
- 8-Feb-23 @ 4:45 PM
no comment
metro
- 24-Nov-22 @ 6:57 PM
I made a game up called Danimals. My son (Daniel) is 7 years old and every weekday morning it's a chore to get him up and ready for school. What I do is draw simple cartoonish animals and put human smiles, spikey hair, human head shapes etc. on them then change thier names a little. For example... moun-Dan-goat, praying Dan-tis, and my favorite (and so obvious it took me a while to come up with) gol-Dan-retriever. We have 32 animals so far and he gets up every morning to run downstairs to see what I've come up with. Best wishes to all and have fun with the kids!
Diddy
- 25-Apr-22 @ 8:28 PM