Ball Games for Youth Groups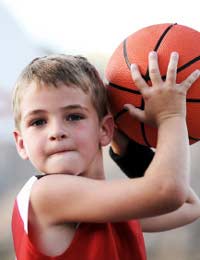 There are so many ball games available to youth groups, and it is obvious why that should be. Ball games, perhaps more than any other type of game, teach children so many skills, aiding their development hugely. This article will give leaders an insight into just a few of the myriad of options available.
Dodgeball
There are several different versions of this very popular game. Many will be aware of the film based on the sport, but it can be difficult to play a game with that many rules with a group of unruly children. A simplified version of the game involves choosing two or three volunteers who will be the throwers. These children have to try and hit all the other children with the ball (try and buy a soft, large one, rather than a hard one). Whoever gets hit has to either sit out or join the throwers (depending on the size of your youth group's venue). This is a fun, frenetic ball game which is guaranteed to tire the kids out - try playing it at the end of an evening to prepare them for going home!
Crab Football
This ball game teaches children to play with a modicum of strategy and discipline, by testing their ability to maintain their position and ration their energy. It has the same rules as regular football - but with a twist. Each player must prop themselves up by their hands as well as their feet, in the manner of a crab. This leads to a very amusing spectacle with children scuttling around trying to keep up with the ball! This is also an easy game to referee because the ball moves around quite slowly.
Danish Longball
A renowned classic, this ball game works well with any number of people, and is great for large groups in a big open space. It is a mixture of different sports, but it most resembles baseball and cricket. Split the children up into two teams; these teams take turns batting and fielding. The field itself is a 'wicket', as in cricket, and then a large square which you can mark out - alternatively just let everyone know its boundaries beforehand. At the other end of this square is a 'safe zone' for the batting team. The object for the batting side is to hit the ball far enough to make it to the 'safe zone' and back. If they wish to stop in the 'safe zone' they can then run back while the next batter is playing. Each batter fully 'home' scores one point for their side.
However, the fielding side's object is to eliminate the batters. This can be done in one of three ways: a fielder can catch the ball on the full, the batter can hit the ball outside the square on the full, or the fielders can hit the batter with the ball. Fielders are not allowed to move with the ball; they must pass it to a better-placed fielder. Each team should either bat till they are all out, or (if the teams are very large) for a certain amount of time. Each team should bat 3-5 times each - remember to keep count of the score!
This ball game teaches all sorts of skills - hand-eye coordination, teamwork, strategy, positioning and awareness. It is also extremely popular with youth groups of all ages, appealing to their sense of competition and their sense of pride - as a good hit will not only get them back 'home', but could help lots of others in the team get back 'home' too! We hope you've enjoyed reading about these ball games, and that they are helpful for you as you seek to lead your youth group.
You might also like...
I have so many kids who always been kicking balls into my garden and they have climbed over my fences and they have keep on continuing on doing, there used to have no ball games signs up on the green and my other neighbours have been trying hard to asks the council to put signs up but they have refused no to put them, why don't the council understands what people are asking them to do, I don't like the kids who always out 24/7 non stop, where or who can I asks for put the signs up on green of no ball games allowed? Before the council used to have signs up, kids have damaged people's gardens and people's house windows, I have tried to asks councils to put signs up, where I live, they always have damaged people's gardens and windows and they have damaged people's cars too, please help,