Get-to-Know-You Games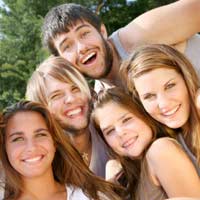 When starting a youth group, it is very important for the kids who come along to get to know each other. One of the biggest problems for leaders occurs when children become marginalised or isolated from the rest of their peers for one reason or another. Get-to-know-you games allow young people to learn about the other members of the group in a relaxed, communal way, where no one is left by the wayside. This article explores just a couple of the many get-to-know-you games available to youth group leaders.
Who Done It?
This is a great game to play with a new group who are unfamiliar with each other. Assuming you have a small to medium sized group (maybe 5-10 people), everyone can play; if you have a particularly large group it may be worth choosing some volunteers. Each player should write down something they have actually experienced or done on a piece of card – tell them to ensure the fact is as silly or as unbelievable as possible. Sentences such as 'I bought some milk once' would be too boring; we're looking for things like 'I once went bungee-jumping'!
Once everyone has written down their sentence, collect the cards in, shuffle them and redistribute them. Each player then reads out the sentence they have been given and guesses 'who done it?'. If they guess correctly, the person should have a little time to tell the story. This frequently leads to gasps of astonishment, as well as some hilarity in certain cases! Games like this one really help children to learn know that everyone is unique, and capable of achieving special things.
Superlatives
Get-to-know-you games come in all shapes and sizes, and this one is no exception. This game is great to play with youth who are unfamiliar with each other as it relies on their ability to work as a team and to put their new knowledge to good use. The game simply requires teams to line up in order according to certain commands from the leader of the group. This means it needs no equipment and it can take as little or as much time as you like.
The leader should prepare a few categories beforehand, such as 'height', 'birthday month' or 'shoe size'. When you have chosen the teams (which should be fairly small – between 5 and 10), you can shout out the category. The teams scramble to get into order, often frantically shouting questions and answers to each other. This can be quite noisy but the desire to win will ensure the racket doesn't last too long!
When a team finishes they should sit down and raise their hands. When all the teams are finished, the leader should check that the winning team is in the correct order; if they are not, then the next team to sit down in correct order is the winner of that round.
Once the teams learn to use what they know about each other, you can introduce variations such as a 'no-talking' rule. This tests the players' memory and their ability to communicate using gestures – so from being a very noisy game, it will suddenly become very quiet! This is one of the great get-to-know-you games because it combines knowledge, memory and teamwork.
There are lots of great get-to-know-you games which can be found elsewhere, but hopefully these two will provide you with some good ideas for games which help youth group members to learn more about their peers. It is important to know, however, that not every game will work equally well, so be prepared to change your mind and go with a different game if the kids don't enjoy the one you chose originally. Enjoy these get-to-know-you games, and hopefully the children will know each other much better very soon as a result!
You might also like...