Ice-Breakers for Large Groups (10-30 people)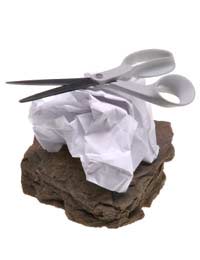 Ice breakers are very useful for every youth group leader. They help to establish a sense of routine if people have been coming for a while, and if the group is relatively new or meeting for the first time, a great way to learn about each other is to play games with one another. This article discusses ice breakers which work well with particularly large groups of people.
"Rock, Paper, Scissors"-style Games
Everyone is familiar with these games, which makes them ideal for fast, amusing ice breakers with large groups. There are two well-known variations on the rock, paper, scissors theme: "Ape, Girl, Man" and "Elves, Wizards, Giants". In both cases, you should eliminate the losers of each contest until you have a winner. In the first version of the ice breaker, Ape beats Girl, Man beats Ape, and Girl beats Man; in the second version, Elves beat Wizards, Giants beat Elves, and Wizards beat Giants.
People should make up their own actions for each character - this leads to some real hilarity! These are great ice breakers because they require no set-up, and they're over quickly, so people who are knocked out early won't be too upset.
Balloon Game
This unfortunately requires quite a bit of preparation, but it is worth it for the amusement of watching people play the ice breaker. Each person has a balloon on a string tied to their ankle; the string needs to be fairly long, at least a couple of feet. The object of the game is then for each person to try and pop everyone else's balloon, while simultaneously keeping theirs safe. This is one of the great ice breakers for big groups because the action is frenetic and often you will end up with very unlikely winners. Be careful where you play it though - if you're not on the ground floor of the building, the people beneath you aren't likely to enjoy ice breakers like this too much!
I Am
This is a game which tests both the vocabulary and helps people to learn about each other. It's very simple and non-competitive; everyone has to think of adjectives to describe themselves. But here's the catch: the adjectives must start with the same letter as their name. For example, "I am troublesome Tom" or "I am elegant Emily". Depending on the average age of your group, you might be surprised at the ingenuity and the word power of the people playing this ice breaker.
It can also be good to test the memory by playing again at the end of the session; instead of coming up with new names, ask each player to try to remember someone else's adjective and name. This really helps to familiarise people with others in the group.
Here are some other ice breakers which work well with large groups:
Crash! - Everyone moves around the room freely until the leader shouts a number. Everyone must then try to get into groups of that number as quickly as possible. Whoever fails is out. This is easily varied based on different categories such as heights, shoe sizes, left-handed/right-handed, etc.
Line Up - Similar to Crash, but less frenetic. Sort the people into groups of 5-10. Then the first group to arrange itself correctly according to the category shouted by the leader wins the round. There are many different categories that work very well; just make sure that they can line up easily. That is, don't shout something like "political views"!
Who Am I? - This is one of the all-time, hands-down, classic ice breakers for any number of people. This requires a little preparation: you must write the names of some celebrities and famous people on cards, which will be pinned on the back of each person who enters. The children must then ask each other questions to work out who they are.

Once they find out, their card will be pinned on their front. If you like, you can get them to pretend to be that person for the rest of the session!
Hopefully these ice breakers will give you plenty of ideas for your youth group. Ice breakers are a great way of helping people to get to know each other. Enjoy playing these ice breakers with the children in your youth group!
You might also like...