What do Kids Want from a Youth Group?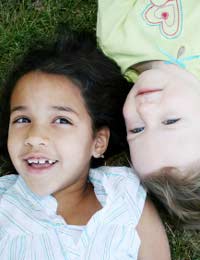 Children and teens can be very hard to cater for. Treat them too well, and they end up spoilt, needy or weak; treat them too coldly and they end up hurt and isolated - and possibly aggressive or difficult. Youth groups can be an excellent way of redressing the balance in either case, toughening up those who have been cosseted, and giving the other little terrors a chance to be accepted. But what do kids actually want from a youth group? This article will attempt to answer that question in two differing ways.
Safety and Security
Children and teens arguably want these things above all others, even though if you asked them they would probably laugh the idea off. The fact is, though, that many of these kids will be struggling to fit in, whether at school or in the home. They will probably feel misunderstood, unsure of themselves, and uncertain as to where their future lies. A youth group can be a real benefit in these situations, offering a low-key, no-pressure environment where kids have the chance to be themselves around peers without having to prove themselves constantly. Most of all, they can learn to be part of a group, and get used to the different types of communication required when there are peers and leaders in the same place. In other words, they will learn to respect their elders, and empathise with those who are on their level.
Fun
If you asked a group of children or teens what they wanted from life in general, they would probably reply that they wanted to have fun. A youth group should therefore be no exception. The activities of a youth group should be a healthy mixture of active games, more intellectually stimulating events such as quizzes and discussions, and practical arts and crafts which help to build teamwork and problem-solving skills.
Kids love challenges, as well as the opportunity to make a mess, so you should make sure you know what you're getting yourself (and the venue) into! You'll also need to make sure that things don't get out of hand in the heat of competition. It's important for a youth group to have a good balance between competitive games and games where 'everyone's a winner' – that way no one child will begin to dominate the prizes or the praise, but they will still have opportunities to show their skills in specific ways.
In conclusion, maybe the things children and teens want from youth groups are not that difficult to provide. They want an atmosphere of security and safety, with clearly defined boundaries and strong role models. It's up to you, and your fellow leaders, to provide that environment. Likewise, they want fun activities that range from the competitive to the cooperative and from the individual to the corporate. This will give them the best mix of opportunities to learn from their peers, and to establish themselves as individuals. Of course, it will take time for youth groups to find the best balance between all these desires, but the knowledge of what the children want should be a great help towards achieving that goal.
You might also like...
I want to start youth group club to keep the youth busy in my Community because some are moving up and down to the street smoking drugs at an early stage,go to swim in dangerous dams which is not good.but I need some advice's
Zim
- 14-May-21 @ 1:37 PM
I am a coach at a local youth club, as a team, parents and coach we are having difficulties trusting and have lost confidence in certain members of the committee. I am aware of other teams feeling the same and we do not get any support what so ever, we pay a fee each year to play, subs each week and have to raise all funds our selves or lose out. Although some of the teams do not have to pay these fees. The secretary has been very abrupt and negative towards us as coaches and parents. He makes comments that we are not good enough as young players and we are poor coaches. There are many concerns in the club by parents, coaches and players however we are told " If you do not like it leave" What can we do"?
Ginge.
- 19-Feb-16 @ 10:57 AM