Ice-Breakers For Small Groups (2-5 people)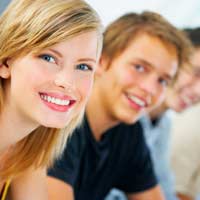 One of the most important things a youth group aims to do is to allow young people a place to be themselves. However, if a group is particularly small, people may feel that there is too much pressure on them to reveal personal information about themselves. That's why ice breakers and other games are so important; they relieve any sense of pressure, but at the same time they enable people to express themselves and to learn about others through play. This article gives various examples of good ice breakers for small groups to play.
Fabulous Flags
This game suits any age, but it's likely to be best for older children and teens. Very simply, each person is given materials to draw a flag that represents their personality. So for example, someone who enjoys sport and music might draw a football and a guitar. Once everyone has drawn their flags, come together to discuss each flag and to learn about the other people in the group. You could then add all the flags to create a single large flag representing the group as a whole – this also allows any new members in the future will have the opportunity to add their own flag.
Two Truths and a Lie
This game certainly suits small groups, and is suitable for people of all ages. Players sit in a circle, and are told to think of three statements about themselves. Two must be true, and one must be false – hence the name of the game! Each person then reveals their statements to the group. The object of the game is for the group to try to figure out which statement is untrue. You can choose to add an incentive by offering prizes to those who successfully dupe the group! This game is a great one to play with a new group of people as it shares a lot of information quickly.
React and Act
Sometimes it's good to play more active ice breakers as opposed to quiet games. This game is a great one for people getting to know each other as it helps people to lose their inhibitions.
Each player writes down an event on a piece of paper. Encourage each player to be creative! Once everyone has written an event down, the paper should be put in a bag, and the players divided into two teams.
Each member of one of the teams then chooses a piece of paper from the bag. When the leader of the group shouts "Go!" they have to act out whatever is on their piece of paper, without revealing the event explicitly. After a little time (maybe 30 seconds, or a minute), the other team has to try and guess each of the events that were being acted out in front of them. After they've tried to guess all of the events, the teams swap around so that the guessing team becomes the acting team and vice versa. This is a very humorous game and can often lead to great moments of hilarity! If you wish, you can also make it competitive by keeping score of correct guesses on either side.
There are many other great ice breakers available to small groups, but hopefully these will have the right effect on your own group. It's important to play games together so that young people have a chance to express themselves in a relaxed way, and these games should help you to do that. Good luck!
You might also like...