Pen-and-Paper Games for Youth Groups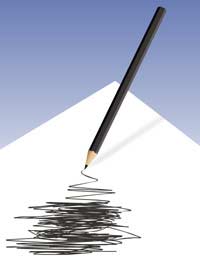 Pen and paper games are very useful for all youth group leaders. Although they do not necessarily strike you as the most exciting of games, they tick all the right boxes. They are fun to play, often educational, and particularly good for times when the youth group needs calming down after a very active session. That is not to say, however, that pen and paper games don't have their share of excitement; it just happens to be a more calming, slow-burn type of excitement than the high-octane active games. This article discusses some of the best pen and paper games available.
Drawing Games
Guess the Clue - This game ranges from frenetic to calming, depending on how competitive your youth group is! Very similar to the board game Pictionary, it is a simple question of splitting the group into two or more teams, and then providing a volunteer from each team with a word. The volunteer must then race back to his or her group and draw a picture which helps the team to guess the word.

This can be made as easy or difficult as you like, depending on the age and artistic ability of your group. One good idea is to start off with very easy things such as 'dog' or 'chair', and gradually make the words more difficult and abstract to draw, such as 'love' or 'democracy'. The team who gets the most clues correct is the winner.

Picture the Consequences - this is, again, a simple drawing game, but it works with any number of people and with any age group. A very calming game, this requires everyone to sit in a circle.

Each person is given a piece of paper and a pen on which they must draw a human head. They then fold the paper over so that their drawing is not visible, leaving only two lines indicating where the figure's neck is to be, and pass the piece of paper onto the next person, who must draw the person's shoulders and torso, including arms. They then pass the paper onto the next person, having folded it, and their neighbour must draw the figure's legs. The next person then draws the character's feet.

Once this has been done, the paper must be unfolded to reveal the whole drawing. This is frequently very amusing as the individual parts drawn by different people often bear little resemblance to each other, meaning that the whole figure is very odd to look at! This is a great game which is not competitive at all.
Writing Games
Poetry Consequences - this is very similar to Picture the Consequences, except it's played with words instead of with drawings. In the poetry version of the game, the first player must write two rhyming lines, plus a third line, before folding the paper so that the third line is shown, and passing it to the next player. This player must complete the couplet started by the first player, before writing their own first line.

This continues around the circle until the paper is full up - each player can start their own poem so that no one has nothing to do. At the end, the poems can be read out, with hilarious consequences - hence the name! A very calming, but also a very enjoyable game, best played with older teens, although you may want to vet the poems before they are read out in that case!

Word Square - an excellent, quiet, calming team game.

Each team must draw a 4x4 grid on their sheet and take turns to name letters. Letters can be repeated. Each letter that is named must be put somewhere on the grid - it is the team's choice as to where they go. Once the grid is full, each team must count up how many 4-letter words they have managed to make horizontally, vertically and diagonally in the grid. This is a real test of creativity, skill, and analytical thinking, but children of all ages enjoy it very much. It is often interesting to see the different tactics used - whether to block the other team's words, or to go all-out to make your own.
Although pen and paper games can be quiet, they do have a very calming effect, and it is often good to allow youth groups the chance to show that they are mature enough to concentrate and to play games in a grown-up way. in any case, some of the games written about here are so competitive that they may end up being just as loud and uproarious as the active games your youth group usually plays! Enjoy playing these pen-and-paper games.
You might also like...