Card Games for Youth Groups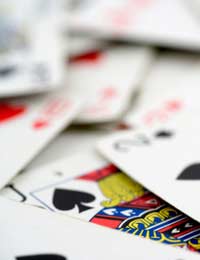 Card games, at first glance, would not seem ideal for youth groups to play. One tends to associate card games with groups of four or fewer, rather than big group gatherings. However, there are a surprising number of card games which are playable with larger groups, and this article will explain just a few of the possibilities. While these particular games do not necessarily have the finesse and skill of Whist or Bridge, they are great fun and will appeal to all ages.
Spoons
Equipment - enough spoons for everyone in the group, minus one; dessert spoons are best. At least one deck of cards, and possibly two (depending on group size).
Set-up - sit in a circle with the spoons within reach of every player. If this is not possible, spread the spoons around the room in such a way as to offer an equal chance to every player of grabbing one. Each player is given four cards with the dealer keeping the remainder face-down.
Objective - each player must attempt to get a run of numbers (i.e. 2, 3, 4, 5) or a set of 4 cards (4 aces, 4 eights, etc).
Play - the dealer picks up a card and decides whether they want to keep it. If they do, they must discard another card and pass it to the next player. While that player is perusing the card, the dealer must pick up another card. This goes on until everyone is looking at cards at the same time. If a player is slow, a pile of cards will start to develop next to them! It pays to be quick.

When someone has the correct cards, they must shout 'Spoons!' This heralds a mad grab for the spoons, with one unlucky player left out! (One is removed after each round.) The game then continues until the final, climactic battle between two people for one spoon . After that, everyone comes back into the game and gets another chance to be Spoon Champion!
Chicken Feed
Equipment - one or two decks of cards, as old as possible. This game can become quite boisterous!
Set-up - the dealer sits with his or her back to the group with a duplicate pack of cards. The other decks of cards are spread out face-up on the table-top or on the ground in the middle of the players, who are arranged in a circle.
Objective - to obtain the highest number of cards.
Play - the dealer calls out a card. The players must then search for it on the table, and drag it back to their place by the sole use of their forefinger. Ripped cards are void, so the best way to win is to let players have cards they reach first and concentrate on grabbing the next one.

As you can imagine, however, it takes most kids quite a while to realise this! Anyone using more than their forefinger to obtain cards should sit out a round or two. This is a great, competitive, fun card game.
Here is a list of some other popular card games you may be able to play with your youth group, particularly if they are a slightly smaller group:
Cheat
Chase the Ace
Racing Demons
We hope you enjoy playing these card games for youth groups. They are a good mixture of intelligence and fun. They can also be useful fillers for small gaps between larger games requiring more equipment. However you use them though, we're sure that youth groups of any age and size will enjoy playing them!
You might also like...